Together we can help families with critically ill children.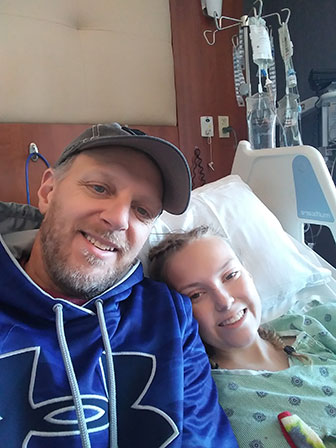 Go to work or tend to your terminally ill child? What would you do?
Help us keep families together.  Support families with terminally ill children.
Hailey's Rose is a non-profit 501(c)(3) charitable organization that Eric and Bonnie Carlson founded.  The Carlson's started the foundation after the death of their 18-year-old daughter, Hailey Rose. Hailey was diagnosed with cholangiocarcinoma (bile-duct cancer) less than a month before her 18th birthday.  She died four months later on March 7, 2019.
During Hailey's illness, Eric literally lived at the hospital 24/7.   He and Bonnie spent every available moment by Hailey's side. It was heartbreaking to see how many children were alone in the hospital due to the financial strain extended hospitalizations impose on families with critically ill children. The catalyst for starting Hailey's Rose was the realization that many families are forced apart due to financial constraints. Requiring someone to choose work over tending to their sick child should never be a choice a parent/guardian needs to make.
Our Mission
The mission of Hailey's Rose is to provide financial assistance to families of critically ill children so the family can remain together during extended hospitalizations or at home where physical and emotional care is needed. Hailey's Rose provides grants to help supplement lost income for qualified participants. In addition, Hailey's Rose seeks to promote the advancement of pediatric cancer research and awareness through contributions to organizations and individuals dedicated to this endeavor.
Our team consists of anyone who has been impacted by a child with a life-threatening illness or injury. We also have a team of regular and part-time volunteers committed to assisting with events and supporting other fundraising efforts of our 501(c)(3) charitable organization. If you have a passion for supporting families during their most unimaginable struggle, we're always looking for partners to help grow our mission.
Think you would be a good fit? Contact us for more information!